In the last month before my next year at University: I moved into a flat with my girlfriend, released the first major update to the TRIM-IT app and dabbled with websites on a peer-to-peer browser!
One of the better things that happened in August, was that the new iOS update to the TRIM-IT user app went out! The update contains two key changes: 1. you can now login & signup with just your first name and phone number and 2. we completely re-designed the home screen. Previously this screen was simply a pretty proxy of the search page, but now it functions as a feed, unique to each user. It will guide you to making your first booking and then once you have had that trim it will prompt you to rebook, review and much more. I put a short post on my LinkedIn describing this in a little more detail if you're interested. I'm really excited about this update as it's a long time coming. The changes to the home screen allow us to further improve the service in the future and we will be working on some of those improvements before the year is out.
It's important to listen. Our users struggled remembering their passwords. So, now you don't need one 🤷🏾‍♂️. Like a haircut less is more 💈✨ pic.twitter.com/49SioAPFp6

— TRIM-IT (@Trimit_app) September 9, 2017
As I mentioned at the beginning I've also been playing around with websites on a peer-to-peer browser recently. This browser is called Beaker and is being developed by Tara Vancil and Paul Frazee. I've honestly only been scraping the surface with all this, but I'll try and explain my understanding of it briefly. Beaker is built onto of a protocol named Dat, which was initially built for sharing and syncing scientific datasets, but has evolved to allow for more than just that. With Dat you can initialise it in a directory and be allocated a Dat address for the directory, which (so long as Dat is running) can then be used to access the files from another machine. It essentially allows your local machine to take the role conventionally taken by a server. The Beaker browser utilises Dat and allows you to enter a Dat address into the address bar to access webpages shared over the protocol. It also has great built-in features such as a quick way to create a new website and also automatic markdown rendering. These two alone make it extremely quick to spin up a quick site. If you have the Beaker browser, you could view my small site. From my understanding, at the core of this whole thing is the idea that we, the users, should own your our own data/website and that we should not be at the mercy of massive companies such as Google, Facebook, Amazon, etc. If this sounds at all interesting to you, I'd highly suggest you follow Tara and Paul on Twitter and read into it further, as I honestly only have a limited understanding at the moment. From what I've seen briefly these two are doing amazing work which challenges the idea that decentralisation has to centre around blockchain.
Been playing with @BeakerBrowser a little more, built a Todo app on InjectDB with VueJS. pic.twitter.com/r9l16lwf5P

— Elliot Massen (@elliotmassen) August 4, 2017
A small todo app I made in Beaker.
August has been pretty difficult. I think that comes with moving to a new place and also with the pressure of the work I'm trying to do. I definitely feel like I've learned to look after myself better over the past year or so, so in terms of how I'm dealing with that stress/pressure – it's a whole lot better than its ever been. I try to ensure that I have a days work planned out near to the start of the day so I don't feel that I'm not achieving anything. Besides this it also involves a lot of days of working in my comfy clothes at home and a few evenings watching Vampire Diaries & playing Tomb Raider. In the past I think its at times like these that I would have ceased work completely for a short period of time, but I know now that when I do that its always extremely tricky for me to start back up again, so it seems better for me to endure and keep on doing something, anything, during these times.
To touch on the move briefly, me and Kirsty moved out of our old place in the middle of the month. Unfortunately our old and new contracts didn't overlap, so we both had to move our respective things back to each of our families' homes. We then had a two week gap until we moved into our new place. When we moved in to the new place there was a fair few things that weren't right. We're still in the process of sorting some of this now as I write (early September). This meant we did the first two weeks without a freezer and washing machine – which while not the worst things in the world to go without, we didn't anticipate not having them so it was a surprise. There were a few other issues as well that I'd rather not dwell on as I'm quite tired of it all at this point. But besides these issues its a really lovely space and the moving in process was made 100 times easier thanks to the help of our families. Me and Kirsty have lived with each other for just over two years now but this is the first place where it's just the two of us, so its 100% our place – which is really lovely. The living room is a great size which we've already been able to turn into a homely space with a few candles, a couple of cushions and decent sofa throw! Despite the issues we had moving in I'm glad we've got this place, because it'll be a great base for us as Kirsty goes into her last year and me in my second.
Besides this in August our booking numbers have continued to grow at TRIM-IT! Later in the month Kirsty celebrated her 21st birthday – which included an evening in London, a lovely meal and going to the Shard. I also saw The Psychedelic Furs perform at the Concorde 2 in Brighton with Kirsty's dad, which was great. I hadn't been to a gig in a while, let alone a rock one!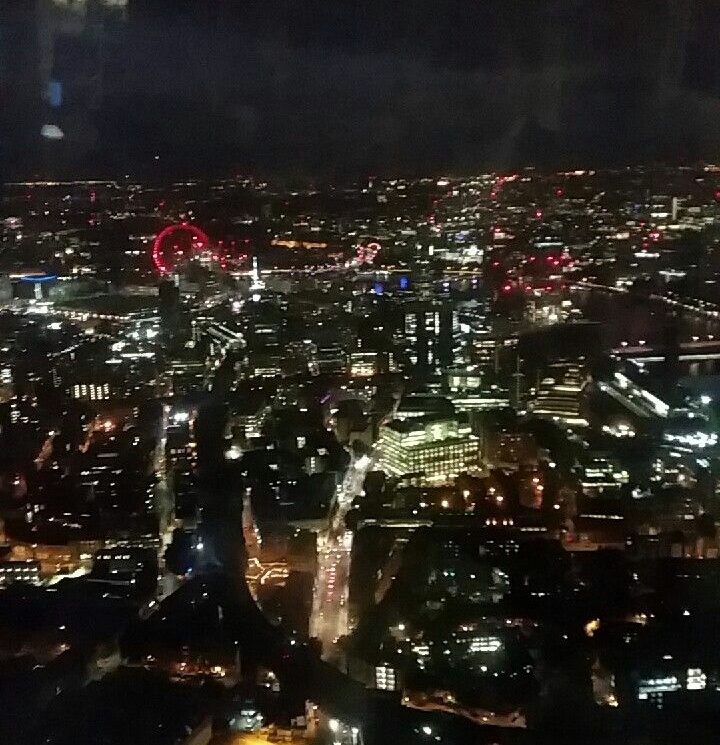 The view from the Shard. Excuse the quality, my Android camera is sub-par I know! Am a student with a startup so what can I do!
There's a chance that next month will be too busy, so I might do a double-month post in October. By then I will have been to Birmingham and then Barcelona for HackTheMidlands and HackUPC respectively!
Elliot x