Even though 2017 is now dead and gone, I still want to do this blog justice and finish up my entries for the year. I'm not always great at making sure I write one post a month, so this will be a catch up of the final two months of 2017. The biggest thing that happened has to be: HackSussex!
HackSussex is a hackathon I organised with Pete and Sam at our uni (University of Sussex). It was the first hackathon that the three of us had ever organised and, overall, it was a great experience. The weeks leading up to the event certainly had their ups and downs but we were really happy with the end result.
The hack took place over 11th and 12th November on campus in the Chichester labs. We were really fortunate in that the school allowed us to use the labs (external monitors included), foyer space and also the lecture theatre. Having the lecture theatre was really great and allowed us to give hackers a nice space to present.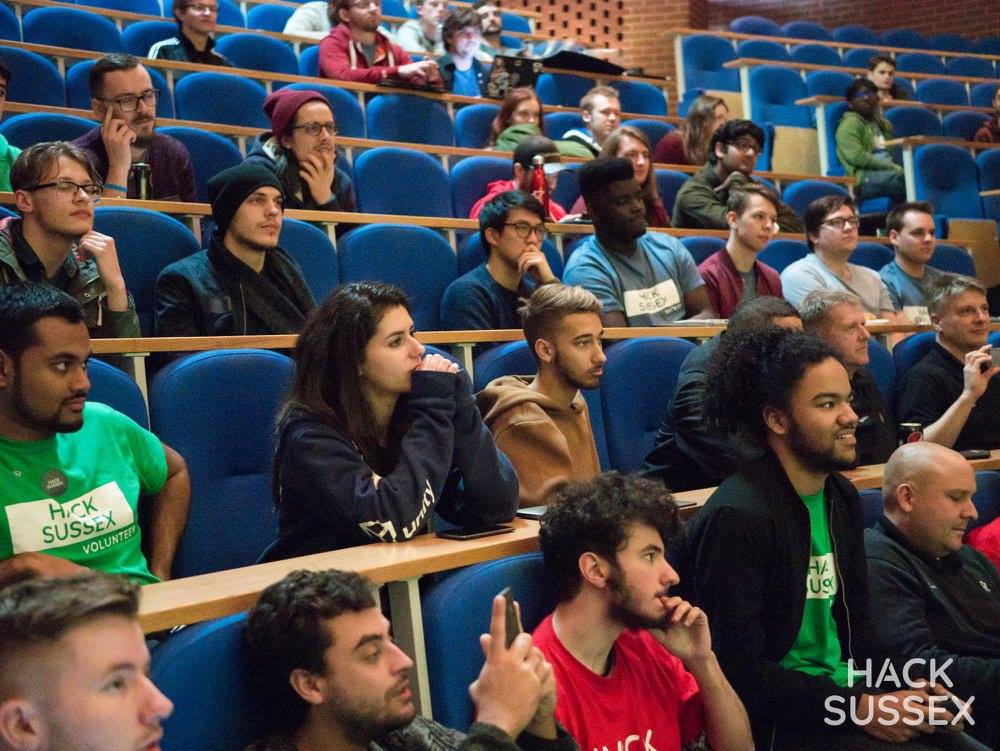 Hackers waiting to hack in the lecture theatre at HackSussex 2017
I'd say that the aim of our hackathon was to be welcoming to newcomers. We wanted to place an emphasis on being creative and having fun, which I tried my best to echo through our branding. The event was sponsored by Rolls-Royce Motor Cars, which meant that we had four very shiny cars outside the venue, which hackers were able to get in, chill and play music. It was of course also a great snapchat opportunity!
The event was made possible by the help of our wonderful volunteers, without which we couldn't have run the event. While the three of us were able to (just about) get by in the months leading up to the event, there was no way we could've done the whole event by ourselves. This meant that we were a little more free to make sure the hack went as planned.
It also meant we could do things that were unplanned! One mistake we made was that while we had made efforts to entice first-time hackers (especially those from outside computer science), we had not done anywhere near enough planning for those who didn't know how to code. This meant that part way through the hack, we started to see some of these hackers leave as they didn't feel like they could do anything. Next time, we will need to plan workshops early in the day and perhaps separate tracks, challenges & team building sessions for first-time hackers & hackers who don't (yet) know how to code. On the day however we did not have that. However this is where it was great to have the ability to act and change plans. It wasn't much but I was able to hold an impromptu, getting started with web development workshop for five hackers. I was glad I was able to do something, however I did feel terrible that we hadn't anticipated the need.
The great thing about organising a hackathon is being on the other side of the event: being able to watch hackers build and learn! One thing we really wanted to encourage was for people to submit whatever they'd worked on and to encourage this we had a prize for the best unfinished hack. I think it's too easy to get caught up in the competitive side of things. My favourite times as a hacker have been when I've learned lots! I found the same joy from our Local Hack Day a few weeks later, where we were seeing people's first ever websites and apps being created.
I'm sure there's lots of details I'm missing, I really wish I'd written this post soon after the event because my memory is really bad! I'm really proud of what we managed to achieve, it's been my first project in a long while that wasn't exclusively coding! I'd be lying if I said I wasn't a little emotional when it was all over. We're hoping to hold the next HackSussex in late 2018, with all the learnings from this hack. If you're interested in catching a glimpse of HackSussex 2017, check out this amazing video by one of the volunteers, Seb Cox:
Besides the hackathon, we also ran a few other events. One of these was Local Hack Day, which was really great! It was about ten times smaller in scale than the main hackathon, which actually made it personal to some extent. We were lucky to have some left over prizes and snacks from the main hackathon which gave the event a little boost too! Kirsty took part too and made her first ever app! Me and Sam made a silly flappybird clone…
I also ran some workshops leading up to the hackathon. Unfortunately the turn out wasn't great, but I still enjoyed it! Initially I was a little caught up with the turn out, but after some good advice I realised that as long as one person has gained from it, then it is a success. I'm actually going to be doing a little more educational stuff, but I'll likely touch on it in my next post.
In December, I finished my first term of this year at uni. As I've said before, it turned out I really like learning about compilers. The more I've learned about them, the more I feel I understand about programming as a whole. The term taught me specifically about processes such as lexing, parsing and code generation. During the coursework for the module, we had to create a lexer, parser and code generator, however they were mostly separate. I'm really tempted to piece them together and make a simple language. However that depends on this elusive "free time" I always seem to think I'll have… more on that next post. There's still a lot I'd like to learn, I'm considering that I may pick a final year project relating to compilers – but we'll see.
I also found myself enjoying the databases module, especially nearer the end of the term. While the first part of the module was quite familiar to me, the last parts weren't. One highlight was learning about transactions. I can't believe I didn't know about these before! To be honest, if I'd known about them in 2016 it would have shaved a fair few hours of the development time of the TRIM-IT API. But that's learning! In short, transactions allow you to bundle together multiple database queries and statements and if one fails you can "roll back" all the others. This is great if you have a process that requires inserting/updating rows in multiple tables and you want to ensure that they are either all successful or none of them are successful. I guess it'd stop you from having dead rows that aren't being referenced.
After all of this, it has been great to take a little time off and enjoy Christmas with family. Me and Kirsty split Christmas day between both our families and it was just lovely to see everyone. We were blessed to have lots of lovely food and laughs and be around our families.
Me and Kirsty in our matching Christmas jumpers, featuring cats, pizza and space.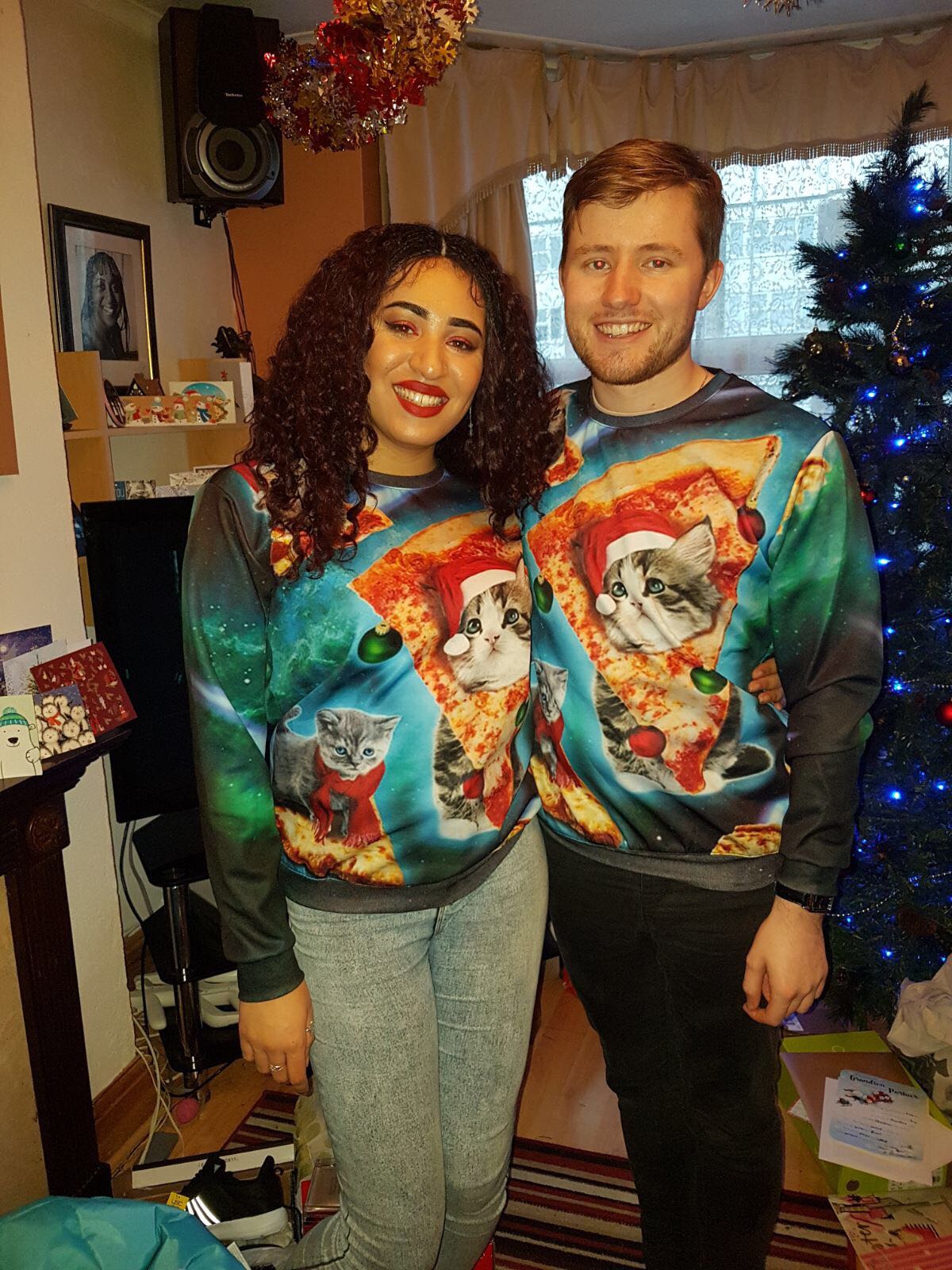 Me and Kirsty in our matching Christmas jumpers on Christmas day
Well that was 2017 then. I'm really proud of the things I've done this year. I think to summarise: I'd say that I've pushed myself outside my comfort zone. I'm specifically proud of giving my talk at Startup Talks by The Connection in July and also of organising HackSussex 2017 with my two good friends, Pete and Sam. Along the way: me and Darren met Steve Bartlett in May, and me and Kirsty moved into our own flat in August.
I hope you all had a lovely new years, I wish you a safe and happy 2018 x