In the last two months I started back at uni for my second year and won first place at a hackathon!
Nearer the end of September, TRIM-IT held a focus group with barbers about a new feature we're looking into. At this point I won't delve into the feature itself as its still in the works and open to change. It was really good to sit down with barbers and hear about their experience. Its too easy to get carried away building solutions but I think you need to be as connected as you can to the core problems. The session lasted quite a while and I made pages of notes! I'd be lying if I said that it hasn't been a tricky time with TRIM-IT. Earlier in the summer we were throwing our weight behind a digital queueing system, which I (and we, as a company) still believe in – however the timing just wasn't right. So after that, it was tricky to get back out there and try again. But I guess that's what it's all about! We tried something, it didn't quite work, so now we have to try again. One thing that became clear though is that our core booking service is still working and successful, and that it shouldn't be overlooked.
A couple of days after the focus group, I was out in the rain at my university fresher's fair for HackSussex. I did a little writeup of the fair. It was a shame about the weather, however we still got to speak to quite a few people. We met many students who were interested in coding but hadn't found a place to get started. I really want to make the society a place for just that. It's going to be a process, but by the time I graduate I'd love to see HackSussex become a society that's facilitating tech-related learning for any students, regardless of the subject. I think its all too easy for societies like ours to only cater to computer science students and I think we can do better than that.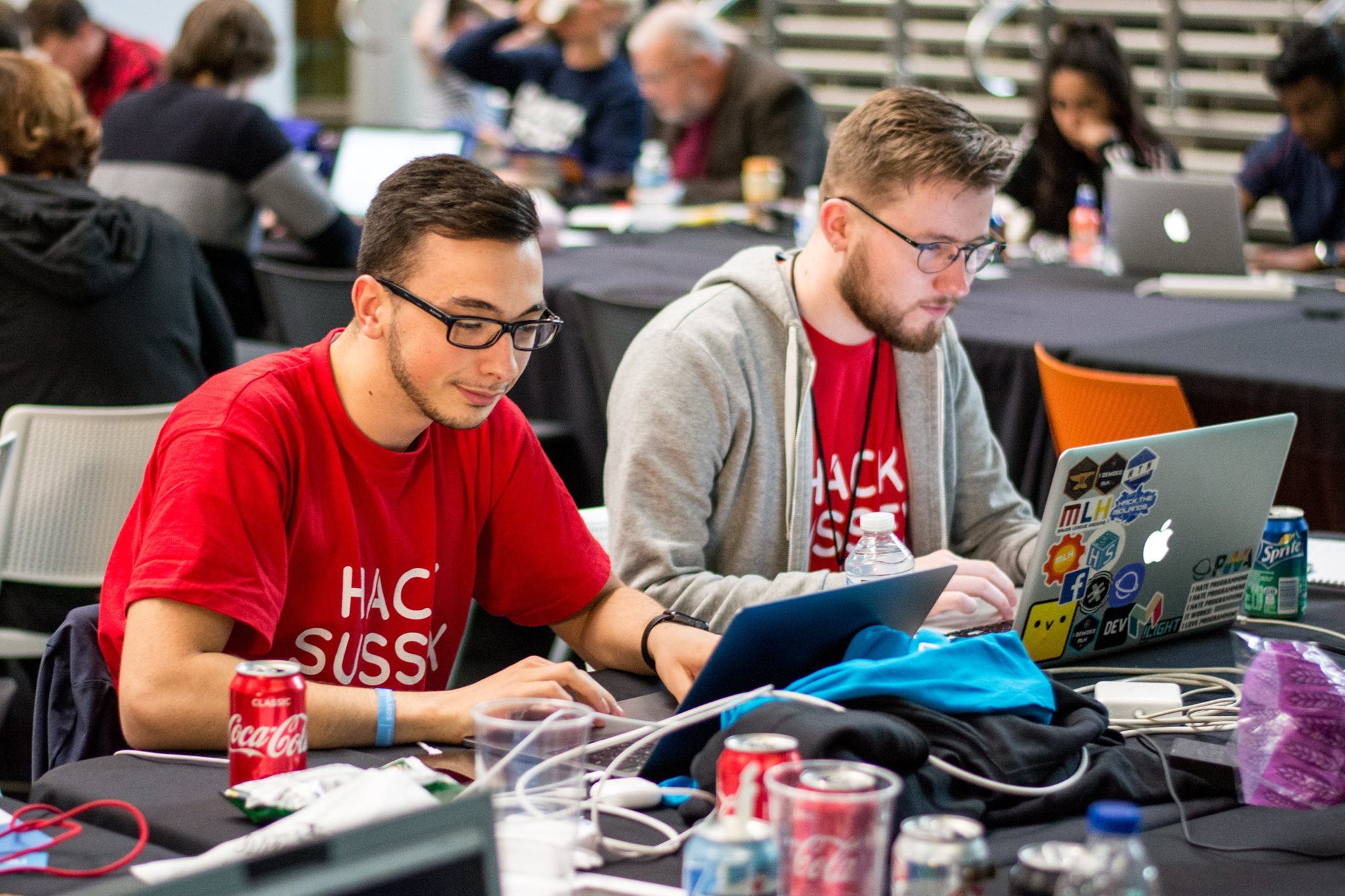 That weekend I was off to Birmingham for HackTheMidlands. I'd never been there before, and honestly I was surprised! It made me realise just how small Brighton is!! I had a great time: me, Pete & Sam built Bubbl.io and with it we won 1st prize (my first time!)
In short, Bubbl.io is an AR app that integrates with Spotify to allow you to leave "song bubbles" anywhere. Then someone else with the app can come along and pop them to hear the song you left. We have so many ideas for how we could expand upon this, but as per usual, its a time issue. Also I wouldn't be surprised if what we had in mind is already in the works at Snapchat or Instagram. Regardless, it was really fun to make this and see it working. Here's a video demo of it.
The last week of September was taken up with starting my second year of my course at uni. It's been really good to get back, not only for the routine but also because I just genuinely missed learning. This term I was really excited by every module. Most of all I've excited about studying natural language engineering and also compilers! The NLE module is in Python which I have a little experience with, which is making it a little easier to get into. I'm finding the compilers module interesting because I've never really considered how a programming language comes together. I've tried to look into the PHP source a few times before but never really pursued it. It's weird because I was honestly expecting to resent this module!
Once October began, so did the coursework! I really thought I'd get a September post published here in the first week, but the work was relentless and here we are now… at the start of November, one of the first times to sit and write in about a month.
That's not to say that I haven't had time for myself though, in October me and Kirsty went to TedxBrighton which was good. There were some pretty good talks there, ones that particularly stood out were from Jacob Berkson, who spoke about the UK's border policy and (if I remember correctly) the injustice of migrants being subject to our laws, but not protected by our laws, Amy Oulton, who spoke about her life and disability, Mr Gee & Tim Holtam. Besides this, we also had the first HackSussex social which I think went well! It was a good chance to gauge the interest and get to know people.
I also had a quick chance to convert Hello over to VueJS. I actually have no clue why I didn't initially build it in Vue, I think it would have been quicker than plain Javascript, however I'm pretty happy I got it working with plain JS in the first place! Now that its in Vue it'll be easier to update… whenever I have the time.
In the middle of the month we went to Barcelona for a long weekend for HackUPC. I built an Alexa skill for the first time which was good fun. I'd love to publish a skill at some point, although I really want to see regular, non-tech people using Alexas/Homes before I invest to much energy into it. I think my little sisters are after one for Christmas, so I'll be interested to see how they use one!
I gave Hacktoberfest a good go earlier in October and was convinced that I would get my free t-shirt by the end, however I honestly just ran out of time. More recently its really been a case of prioritising what's important and necessary, which I'm used to anyway. Stuff like Hacktoberfest, this blog, etc had to be postponed or cancelled for a few weeks while I really knuckled down with uni and while HackSussex stuff ramped up. I think that's the biggest thing I'm learning in second year: prioritising.
There's so much more I could go into but I'm gonna cut it off here. I feel bad for the quality of this post, but at the same time I don't think that's my intention with this blog. I'm just trying to keep a document of what I'm doing and share it with people!
Next time I write HackSussex 2017 will have been and gone, which is a scary but exciting thought.
x